GOLDEN VISA TO SPAIN
FULL ASSISTANCE TO APPLY FOR INVESTORS' RESIDENCE PERMIT IN SPAIN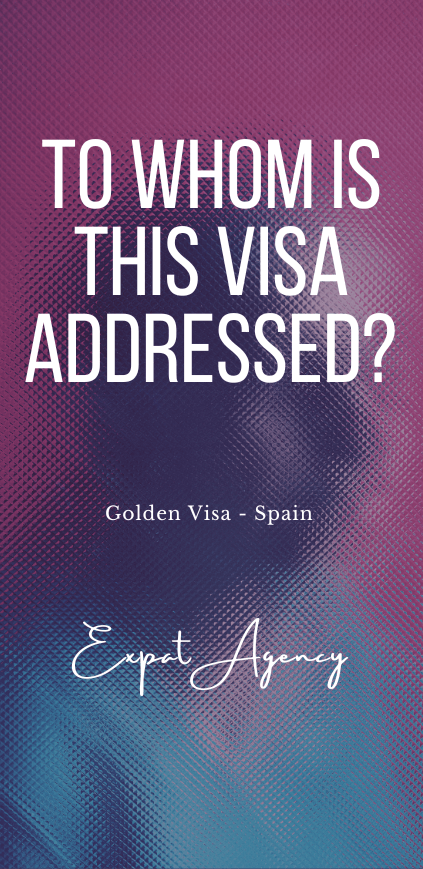 Frequently Asked Question
You will need to invest BEFORE applying for this visa. Please check the requirements below.
Investments to apply for the Golden Visa To Spain
If you are outside of Spain when the application is submitted, you will get a Golden Visa. However, if you are currently in Spain when submitting the application, you will get an Investors' Residence Permit. But both ways involve the same application.
We have detailed below the ways to apply for this visa.
You must make one of the following investments:
---
Public debt (€2 million).
Shares (€1 million).
Investment funds, investment funds of close-end type or venture capital funds
set up in Spain (€1 million).
Bank deposits (€1 million).
Real estate (€500,000).
Business projects: there is no minimum investment requirement, they must be of general interest:
Creation of jobs
Social and economic impact on the geographical area where they are made.
Significant contribution to scientific and/or technological innovation
---
Other requirements
Basically, the other requirements for this visa are:
Economic assets: Having monthly incomes or savings according to the Spanish public income index (IPREM*) as follows:
– 400% of the IPREM* for the main applicant
– 100% of the IPREM* for each family member
(*) Current IPREM in Spain: €579,02/month (January 2023)
A full private health insurance from an insurance company registered in Spain;
No criminal record;
You will need some marriage/birth certificates depending on the situation.
We can assist you to apply for the Golden Visa To Spain. No matter if you are in Spain or not.